By Carol Kaufman | International Living
Expats are inspired to move to Ajijic, Mexico for all sorts of reasons, but few claim to have been motivated by an "inner calling." For 46-year-old Joely Nicole, a holistic practitioner and healing arts teacher, such an impulse was her inspiration to close up her office in Portland, Oregon, sell her car and buy a one-way ticket to Mexico in October 2017.
Another thing that factored into Joely's decision to move abroad were four significant deaths in her life, all within 16 months of each other. "First, my father died," she says, "then my spiritual teacher, then my first client—a young woman with cancer—and, lastly, my grandmother, who died three months before I moved to Ajijic."
Joely first got light of Ajijic from her Portland friend who had become a resident there.
"Without having been to Lakeside [the area surrounding Lake Chapala, which includes Ajijic], I knew this was where I needed to be. Portland is fast-paced, dark and shadowy, and no longer met my needs to do my energy work. I knew it was time to live in a softer, lighter place. So far, Lakeside, with its natural beauty, amazing climate and unique kind of magic, has more than met my expectations. Also, I've been able to considerably reduce my cost of living expenses living here," says Joely.
"I feel that certain places have an organic and undeniable resonance or higher frequency; places such as Sedona, Arizona, and Mt. Shasta, California. This higher vibe geography allows higher consciousness to grow and blossom. Ajijic and the waters of Lake Chapala most certainly hold this special resonance for myself, as well as for many other spiritual seekers."
Joely's Ajijic community has become her new family. "From the moment I arrived I've been surrounded by the most amazing friends," she says.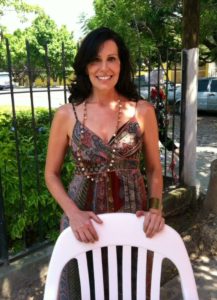 Joely Nicole moved from Portland to Ajijic, Mexico, after experiencing an "inner calling."
She started her healing practice six years ago, specializing in pain-body issues. "As an acutely sensitive woman, I was feeling a lot of bodily discomfort," she says. Before beginning her practice, she met a teacher/doctor friend who took her under her wing. She also met a physiologist who became her mentor, then went on to receive training in a variety of healing arts, such as reiki, meditation, and nutrition.
Joely does the majority of her energy work by phone, but also conducts in-person sessions.
"I make my income through teaching, consulting, private phone sessions, and creating personal and group healing retreats. As long as I have a phone line and WiFi, I can work from anywhere."
Moving to Ajijic, Joely knew that the area would easily attract her friends and clients to visit and experience hands-on healing with both herself and with her practitioner friends that she's been fortunate to meet in the brief time she's been living there.
When she's not working, she's strolling along the shores of Lake Chapala, enjoying the sounds and colors of the village, and attending spiritual events.
"Ajijic is becoming a magical town in Mexico and I'm hoping I can help make it even better so that many more seekers can experience the elevating frequencies that are available in this truly magical place."