By Grace Kary | International Living
What do a colonial village devoted to Day of the Dead ceremonies, a charming pueblo perched against a monolithic rock, a high plains ghost town, and a new age community clinging to a mountainside have in common?
These seemingly disparate pueblos magicos (magic towns) comprise the next generation of up and coming retirement communities in central Mexico.
In 2001, the Ministry of Tourism devised a program sponsoring 121 magical towns in Mexico defined by their natural beauty, cultural richness, traditions, folklore, historical relevance, cuisine, art crafts, and hospitality. These four pueblos certainly earned their place on the list. Many retirees are seeking an oasis from the hub, a nurturing atmosphere, without having to fight for quality of life and these four options are ideal in the central Mexican highlands.
The two smallest communities are Bernal and Mineral de Pozos, both with populations in the neighborhood of 3,000 and within striking distance of Queretaro, San Miguel de Allende, and Mexico City allowing for ease of access to major airports and urban services. Tepoztlán, with a population of around 14,000, is four times the size and is approximately an hour from Mexico City. With a big jump in population, the final entry is Patzcuaro with a population of approximately 77,000. It is under an hour from the airport in Morelia, three-and-a-half hours from Guadalajara, and four-and-a-half hours from Mexico City.
Pátzcuaro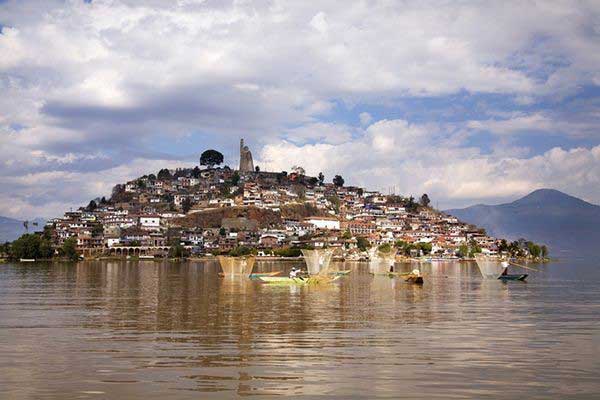 Pátzcuaro is known for its gorgeous natural setting beside a lake. It is particularly famous for its beautiful Day of the Dead ceremonies, which take place on an island in the lake. Patzcuaro is a visible combination of rich indigenous history (Purépecha or Tarascans) and colonial roots.
The forest and lake combination at this high elevation combines to create something of a permanent fall. Often in the 70's F during the daytime, it plummets 20 degrees at night. Like the rest of Mexico, the warmest month is May and the rainy season receives about two hours of rainfall a day between June and October. The air quality is pure, clean, and crisp. These factors combine to make it a magnet for artists.
Until about 10 years ago Patzcuaro housed a robust foreign retirement community but when cartel activities heated up in the state of Michoacán those numbers diminished to about 10 people despite the fact that the activities were concentrated in specific locations in the state nowhere near Patzcuaro. In the past five years, the numbers have been increasing as people are drawn back to Patzcuaro for the many advantages it initially offered and is now back to around 300.
In comparison to the Lakeside (Chapala) region, Patzcuaro is about half the price though it has more than double the population. It offers basic living costs at provincial prices, which are some of the lowest of any of the Mexican colonial cities. While Lakeside is being aggressively developed into a series of boutique villages, Patzcuaro remains authentic and intact with no overt signs of development on the horizon so the economic advantages should remain stable.
Unlike the state of Guanajuato or Jalisco, Michoacán is clamping down on over-development. That being said, it also translates to limited growth opportunities to sustain a large expat community separate from anything already established in the area.   However, the shopping and entertainment extras are not far off and usually available in neighboring Morelia, the state capital.
Colonial buildings, mansions, and courtyards ring a distinctive main square. There are many excellent reasonably priced restaurants to choose from in the main plaza (Plaza Grande) and at the Iglesia de la Salud they serve a local delicacy, a type of tamale called the corunda, which is a delicious tamale with cream cheese and salsa. Top this off with atole made from local guavas and you will enjoy some of the pleasures of life at Patzcuaro.
The small expat community is comprised primarily of retirees that are well organized and devoted to the area. Local expat American and hotel owner, Victoria Ryan, who has lived in the area for 20 years recommends renting some time before buying because one needs a more independent mindset in Patzcuaro than in communities like San Miguel de Allende or Chapala which offer organized classes and activities for retirees.   She has seen expats buy and then discover it was not stimulating enough and quickly pull up stakes. To date, the community is beginning to grow but it's still small, quiet, and it's likely to remain so.
For a life in touch with nature and beautiful surroundings, in rhythm with Mexican festival seasons, Patzcuaro is an excellent choice.
Pozos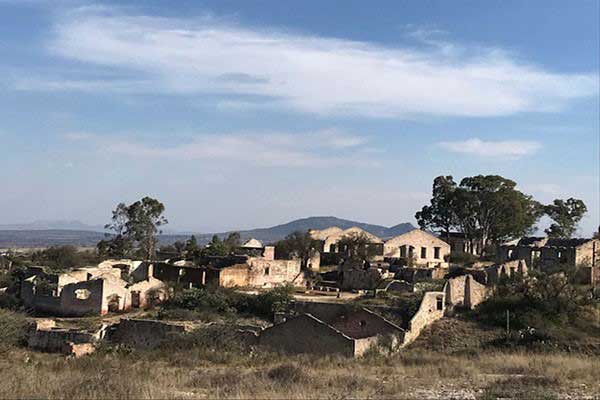 Pozos is about an hour northeast of San Miguel de Allende and about an hour-and-a-half due north of Queretaro and stands at one thousand feet higher elevation than San Miguel. If an aerial shot were to be taken of the bleached ruins from above they would look like dominoes cascading into gorges (where the mine shafts are below). From the street view, downtown is now a collection of reclaimed century buildings full of shops selling pre-Columbian instruments, galleries, a good selection of restaurants, two internet café's, the ubiquitous real estate offices in communities poised for development, and at least half a dozen boutique hotels.
A pair of developers from Mexico City descended 10 years ago, and after much negotiation with the local ejido and government, bought the rights to a lot of the land. They are in the process of aggressively developing high-end condo communities and have installed an art school, the Escuela Modelo, which is beautifully designed and constructed and offers classes from etching to photo-based instruction.
The expat community is small and most live in close proximity to each other with the exception of a group of women who were lavender farmers and made a community at the entrance to the town. Some have now sold up or are selling their gorgeous ranch houses  for around $650,000.
It is highly recommended any property potential retirees wish to purchase already have water and electricity access because it can be extremely expensive to bring in and because of the two-hundred-year period it was uninhabited getting clear title is paramount. That being said, the ancient cactus gardens on the expat properties are breathtaking. Cacti in the area sprout between tumbling ruins and old stone fences.
There was a change of local government in 2017 so for the first time there is a local police force. There is a local medical clinic open 9 a.m. to 5 p.m. which foreigners can access and there are full medical services available eight kilometers away in San Luis de la Paz. There are no taxis after 7 p.m. and not many in commission but it's a very small town.
Like Marfa, Texas, it has a bit of an island economy so prices can run as high as San Miguel, but rentals, are still in general, lower. The expat community numbers about 25 to 30 people and most are part-time residents. My understanding is that single women do not go unnoticed in Pozos the way they do in San Miguel de Allende or Tepotzlan.  So, it is probably better suited to couples at this stage of the expat community development although there are three single women living there.
The expats have an advocacy group with local government, put together two local festivals, and do volunteer work in the community. In addition, there are artists and business people who own local hotels and real estate businesses.  Internet varies:  Homes can get dishes, VET, SKY, or AT&T modem for reasonable rates.  For private servers, the prices escalate significantly. There is no fiber optics. There are two Internet cafes and no ATM's.  Most business needs are attended to in San Luis de la Paz, which is eight kilometers outside Pozos.
Every May, there's a mariachi festival; every July, a pre-Hispanic music festival; every September, a celebration of the nopal and maguey plants. There are art walks in summer and winter, and one or two home-and-garden tours annually.
The three large deserted mines, and the abandoned residences, create picture postcard landscapes in every direction. Vista after rough-hewn vista stretch uninterrupted and the pace of life is slow and relaxed.
Bernal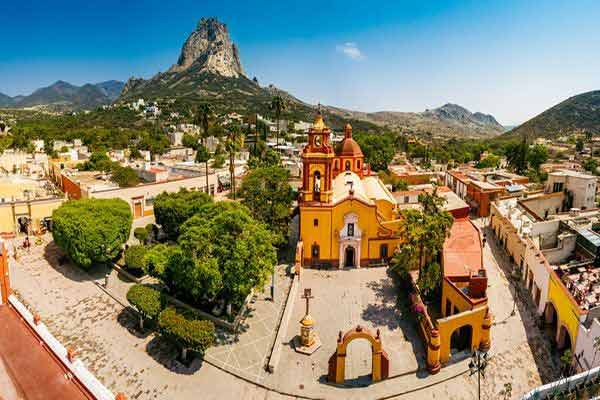 The world's third largest rock looms over the vicinity and is said to be responsible for the magic in this third town. Locals claim UFO sightings but more commonly enjoy watching the changes as light plays on the surfaces of the giant rock. Perhaps some of the gothic appeal arises from ravens that nest in the craggy outcroppings as they wheel at sunset.
Whatever the stimulus, Bernal does not need rumors of the arcane to bring in the brisk tourism. The natural beauty, hiking opportunities, boutique hotels, and shops with local crafts plus the wonderful quiet, and lack of traffic make it a favorite for foreign tourists, Mexican Americans, and weekenders from Mexico City and other larger centers.
Of the four towns, Bernal defines the word 'charming' in a colonial setting. Much more manicured than rough-hewn Pozos, with shops emphasizing a European tone, it is reminiscent of dainty towns in Provence, France, but with an alternate topography. Whereas Pozos is like the old, rough and tumble artistic San Miguel de Allende, Bernal is a mini version of the current boutique incarnation.  That being said, the neighborhood roosters still crow, dusty walks and locals vendors abound keeping things intimate and easy to negotiate. Because of the distance to Queretaro it is more self-sufficient than Pozos.  There is a local hospital and three medical clinics. Also, banking can be done locally as there are three ATM's.
Ranked among the five safest towns in Mexico, its picturesque beauty, pure peacefulness, and welcoming locals are just a few of the reasons to consider retirement here.
While huge real estate banners are now popping up like eyesores on the chiseled Pozos landscapes, Bernal's potential development is out of sight. But of the three communities, it is currently the one attracting the highest rate of growth. This is evident in the housing prices, which have escalated in the past two years. There are still some ground floor opportunities, but you have to do your homework.
In terms of an expat community the numbers are still very low, so like Pozos or Patzcuaro it will appeal to independent settlers wanting the Mexico experience without too much of a separate expat experience.
Tepoztlán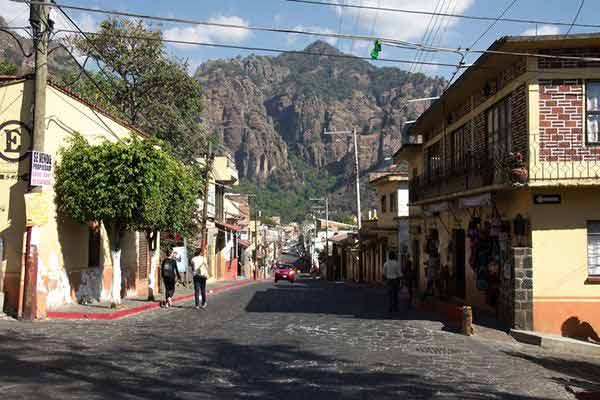 Finally, Tepoztlán is a new age community situated about an hour outside of Mexico City acting as a refuge from the zany pace of life for Mexico City residents. It's also a health sanctuary and attracts a sophisticated crowd from Mexico and internationally, too. The elevation is 2,000 feet less than Mexico City so year-round it is temperate, the air is fresh, the greenery is lush, and it's devoted to a natural practice lifestyle while still offering the basics with a spa twist. Arts, crafts, music, and meditation are all on the menu.
There is an integrated expat and Mexican community similar to San Miguel and it is casual and progressive: devoted to natural, ecological, and spiritual lifestyle practices. Tepozteco archeological site is located in the pueblo and there are academics involved in archeology living in the community. Seasonal foreigners swell the community to 1,000 expats from November to May. And along with the legitimate alternative practitioners, there is a host of hucksters and charlatans, but genuine healers and shamans can be unearthed in the rubble.
If you want to improve your health with yoga, good eating, fresh mountain air, and engage in allopathic, alternative, or indigenous health remedies and practices this is the ideal retirement venue. The town boasts walk-in massage treatments, spa hotels, temazcals (sweat lodges), and wellness and therapy boutiques. Restaurants such as the Sonora have healthful food, spa, and music.
The weekends can be packed because of the influx from Mexico City. But during the week the pace is wonderful, and you can take your time at the daily market and on the weekends,  there is an additional artisan and food market. There is a museum and the Ex-Convento Dominico de La Natividad has beautiful frescoes.
There are direct shuttles from Mexico City airport to Tepoztlán. There are Bancomer and HSBC ATM machines and there are great quality restaurants and bars— too many to choose from—with prices in the neighborhood of $7 to $60. Medical is chiefly available through Cuernavaca 40 minutes away.
Rentals can be difficult to find and are running pricier these days but still below San Miguel de Allende rates. But you can still buy a house for around $100,000.
Housing on the Airbnb market evidences the thoughtful design details of many of the homeowners. So your initial dip in the Tepoztlán environs can be beautiful and inviting.  These days with the world geared towards de-stressing practices, Tepoztlán is ahead of the curve as a unique community combining indigenous knowledge and new age lifestyle practices.