By: Marita Kelly / Internationalliving.com
Recently declared best small city in the world, San Miguel de Allende, Mexico has been attracting American retirees since the late 1930s. A new report from the editors at Internationalliving.com explores why this nearby colonial city with its good-values, mild-climate, and rich arts culture is attracting such positive attention today.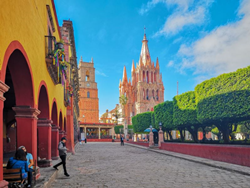 San Miguel
"At International Living, we've been writing about San Miguel for nearly 40 years now because it's a great community for expats. These days, it's one of the easiest places for a retirement abroad."
"Media and cultural organizations have lavished San Miguel de Allende with praise of late—not just of late—and with good reason," says Jason Holland, International Living's Roving Latin America Editor, who lives in San Miguel with his wife and young kids.
"At International Living, we've been writing about San Miguel for nearly 40 years now because it's a great community for expats. These days, it's one of the easiest places for a retirement abroad.
"Not only is the well-restored colonial city picture-perfect, it is a hive of activity with rich cultural offerings like theater, musical concerts, and art shows—all at a fraction of the price back home.
"A dynamic expat community includes lots of artists and writers. And the close proximity to the U.S. makes this a great city for folks who want a part-time home or simply the ease of a quick flight or drive back to the States for regular visits. And to top it off, the climate is temperate year-round."
Six thousand two hundred feet up in the mountains of central Mexico, San Miguel is a remarkable place to live in—it's easy to see why expats are attracted to this city. The historic UNESCO World Heritage Site centro—which includes the famed pink stone, Gothic-style church La Parroquia—is simply stunning.
It's no wonder that in 2017 and 2018, San Miguel was voted the best city in the world by the readers of Travel & Leisure magazine, before slipping to second place in 2019. In 2020, San Miguel earned the title of best small city by Condé Nast Traveler.
"One of my favorite parts of living in the centro is that I can walk to anything, whether it's to the Ignacio Ramírez market for ingredients for dinner (I also love to pick up figs and apricots—a pound for $2), to meet with a friend for coffee, or enjoy an evening at a venue like El Tupinamba," says Holland.
"It's truly a pleasure to step out your door and be in the action. This is a thriving city, and there's so much to see. There are restaurants for every cuisine. My favorite food is the street-cart al pastor (marinated pork) tacos for 50 cents each, just down the way from my house.
"Art galleries, restaurants, shops, artisan markets…if you live in centro, it's all at your fingertips."
Despite growing in popularity, San Miguel still offers a lower cost of living than north of the border—a couple can live well on $1,650 a month.
When Rebecca Eichler, and her husband, Paul Carlino, got to San Miguel de Allende, Mexico, with their two kids, they were ready for a break from their hectic lives working as lawyers in Washington, D.C.
The family had scouted far and wide for just the right destination, traveling by VW camper van through Mexico and Central America, all the way down to Panama. But San Miguel ultimately won out because it made for a relatively easy move…and it cut their living costs dramatically.
"I love it here because there's so much to do…so much culture," says Rebecca. "Friendships come easy here. We seem to all have the same values. And the weather is perfect. It's like spring and fall all year. No humidity. In D.C. it was either hot and sticky in summer or cold and wet in winter.
"And here it's cheaper than the States. We don't think twice about going out. Most things we do don't give us pause, cost-wise.
"Coming from cosmopolitan D.C., we appreciated that San Miguel has such great variety, such as a Middle Eastern restaurant, Japanese restaurants… I joke that this is the only place south of the border that has good bread and cheese."
Perhaps most famously, San Miguel has a vibrant and innovative arts scene that you can take part in as a spectator or an active artist. In fact, that's how San Miguel first became known to U.S. expats. Veterans from World War II discovered that the G.I. Bill could be used to attend art school in the city. It was a favorite haunt of the Beat Generation, too.
Because San Miguel is in the high sierra, the air is crisp and clean, further enticing U.S. citizens. The climate is temperate year-round, staying in the 70s F most days and cooling down at night to the 50s F. Only in January and February do temperatures get colder, with comfortable days and dips close to freezing on the coldest nights.
There is also high-quality, low-cost medical care available. Well-regarded doctors, dentists, and medical clinics are located in the city, with large hospitals and specialists available in the nearby Queretaro, a larger city about 45-minutes away.
"There's an ease to life in San Miguel," says Melinda Marino, yoga instructor and owner of Esencia Yoga Spa.
Melinda's journey from Ft. Lauderdale, Florida to San Miguel, Mexico, began in 1994 when she traveled with her mom to help set up a medical spa recuperation retreat. Melinda oversaw operations for the business from Florida for the next 11 years, finally moving permanently in 2005 to manage it locally. Witnessing the growth in tourism during that time, and drawing on her passion for yoga and spa treatments, Melinda opened Esencia Yoga Spa in 2013.
"I can walk everywhere and often run into friends when I'm out and about. And because life moves slower, when I run into a friend, we both have time to stop and talk, or grab coffee. People aren't rushing around here, frantic, like they are in the U.S. I have a leisurely lunch with friends a couple of days a week," says Melinda.
There's even an ease to running a business in San Miguel.
"Esencia is open 12 hours a day on weekdays and Saturdays, so I devote a lot of time to managing my business. But it is so much less stressful than running a yoga spa back in Florida. Mexican culture is more relaxed and that affects everything here. The vibe is much more laidback," she says.
Melinda sums up her life in San Miguel de Allende with one word: gratitude. "Gratitude is easy to come by here. I can afford to live well, I have great friends and time to spend with them, and there isn't the pressure to compare myself to others constantly or buy the next big thing. It's about the simple joys."
An example of a monthly budget for a couple living in San Miguel de Allende, a video tour, and the complete International Living story on low-cost retirements in San Miguel de Allende, Mexico can be found here: San Miguel de Allende.
Retrieved from: https://www.prweb.com/releases/could_this_be_the_easiest_place_to_live_and_retire_overseas_internationalliving_com/prweb17510102.htm